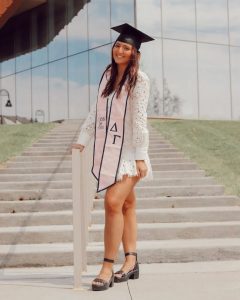 Name: Michele Criss 
Major: Educational Studies
Graduation Year: Spring 2020
Sorority and positions held: Delta Gamma. In DG, I was President, Vice President: Social Standards, and a New Member Facilitator.
About Me: I grew up in Cuyahoga Falls, Ohio, and have lived there my whole life. I came to Kent State as a freshman in the fall of 2016 and joined Delta Gamma that semester. While at Kent State, I have worked as an orientation leader for two summers, and a peer leader trainer where I taught a 15 week leadership course. I also have been involved with a campus ministry organization called the Navigators, where I served as a bible study small group leader and have gone on a mission trip with them. Within Fraternity and Sorority Life, I was the undergraduate intern for the Office of Fraternity and Sorority Life this past year, and I have served on committees that plan and execute the philanthropy event for the Greek community known as Songfest. I recently graduated from Kent State with my Bachelor's of Science in Education. 
Hobbies/interest: In my free time I love to work out, read, and hangout with my friends!
Plans After Graduation: I will be attending Oklahoma State University this fall to pursue my Master's degree in College Student Development.
Favorite Memory Since Being Sweetheart: My favorite memory since becoming sweetheart of Zeta Lambda was homecoming this past fall. I had so much fun meeting so many alum at the chapter house that day, and I will never forget how much fun I had making memories with active brothers that entire day.
Favorite thing about Sigma Chi: I have so many favorite things about Sigma Chi, it's so hard to narrow it down to just one. The men of Zeta Lambda have always been like family to me. For the past four years I've been at Kent State, they have been the first people I want to tell good news to, shoulders to cry on, and people I can rely on at any time of the day. I am going to miss them so much when I am at Oklahoma State, but I am super excited to get to know the brothers at that chapter! I am also extremely passionate about the Huntsman Cancer Foundation, as my dad was diagnosed with stage four brain cancer when I was younger. I will never forget everything that Huntsman did for my family, and I was so glad to be able to fundraise for Huntsman through Derby Days and Sigma Chi.